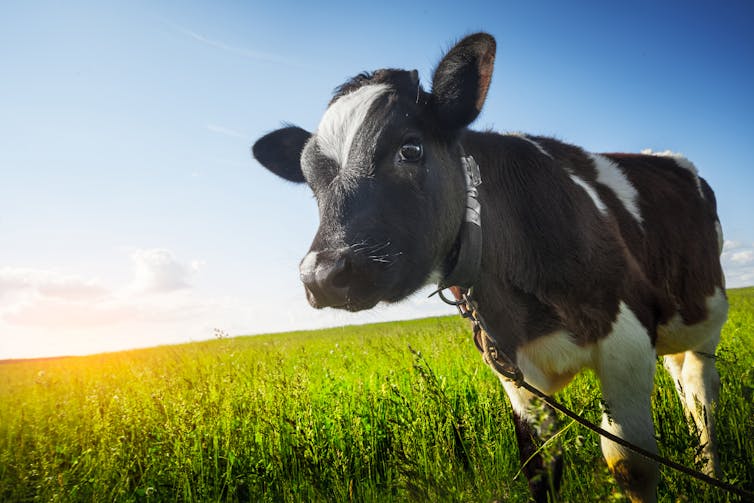 David Gray, Dalhousie University
At 8 a.m. one recent morning, when the milking of 110 cows was complete, I helped Jeannie van Dyk feed her calves and give them clean bedding. Van Dyk has not lost any calves due to excellent biosecurity and their housing and feeding regimes.
All the calves at Lellavan Farms in Noel Shore, N.S., are fed warm water, which helps them avoid getting chilled. The calf hutches are modular, allowing them to be taken down for cleaning. The space is being moved to a positive air-pressure system to ensure protection from disease.
The calves are fed milk twice daily, individually according to size, appetite and age. Then they're taught to drink from a bucket and they start solid food at around three weeks.
At 8:20, the milk tanker arrived, collecting 8,000 litres that would soon reach homes across the province. The conversation at the farm shifted from cows to macro forces shaping the Lellavan Farm family's world: Supply management and international trade deals.
At the centre of trade talks
Our dairy industry has been in the news a lot in recent years as a focal point in Canada's many international trade negotiations.
First, there was the Comprehensive Economic and Trade Agreement between Canada and the European Union, known as CETA. Then came the Comprehensive and Progressive Agreement for Trans-Pacific Partnership, dubbed the TPP. Most recently there was the sticky renegotiation of NAFTA, resulting in the new United States-Mexico-Canada Agreement, or the USMCA.
Every farmer in Canada rides the waves of these negotiations. Concessions and deals are cut in faraway urban environments, sometimes with little input from the rural communities that depend on agriculture for cultural and physical survival.
Day kicks off in darkness
I've worked with the agricultural industry for more than 20 years, in at least four different countries. But until this past Thanksgiving weekend at Lellavan Farms, I didn't really know what it was to be a dairy farmer, to stomp a mile in their muddy boots, kicking my day off in the darkness at 4:30 a.m.
As we worked our way through the various chores, I chatted with Jeannie about her job, her farm and what these trade agreements mean to her. The three aforementioned agreements have collectively given other countries access to more than nine per cent of the Canadian milk market.
That is more milk than is produced in all of Atlantic Canada. Van Dyk shared with me a report commissioned by Agropur Dairy co-operative, whose members are spread across five Canadian provinces, called Analysis of the potential impacts of the end of supply management in the Canadian dairy industry.
It says opening up the Canadian dairy system risks a net loss of $2.1 to $3.5 billion of Canada's GDP. Approximately 24,000 direct jobs would be affected.
A spike followed by a decline
Other studies suggest that countries that have transitioned away from supply management, such as Australia, have seen an initial spike in dairy production, then a steady reduction in production, farms and farmers. Many producers have been forced to exit the industry due to soft market conditions.
Van Dyk tells me that she writes 50 business cheques each month to local companies, a substantial contribution to the local economy. Her farm employs people from the community and hosts a student each summer, so future farmers have applied knowledge.
Being a dairy farmer is more than a job. It's a way of life. The recent concessions in trade agreements are eroding farmers' livelihoods, and thus that way of life.
Granted, it's a challenging life. I often ask farmers why they do it.
Love of their animals
The answer is always the same: Love. Canadian dairy farms are not just milk factories. They are collections of people who love what they do and the animals in their care. That gets them through 20-hour days in the summer.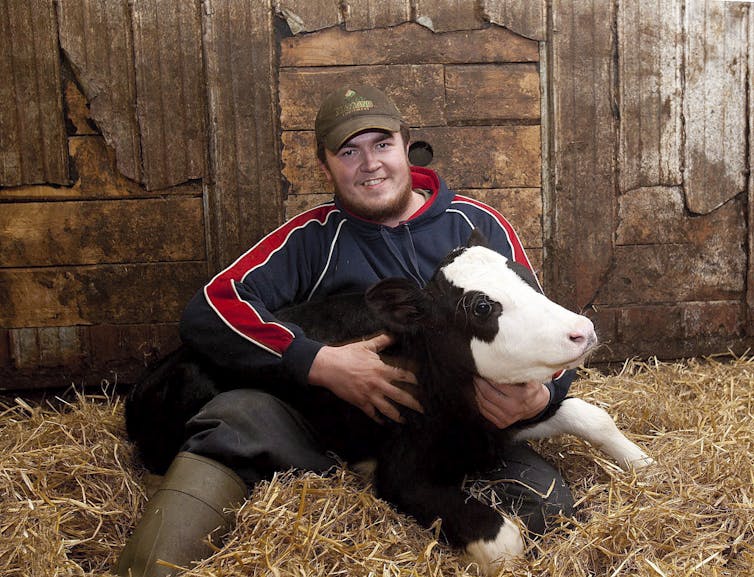 Jeannie and her husband John are proudly mentoring their two sons into the management of the 600-acre crop and 300-head farm. They all showed me how incredibly innovative farmers are as well as their dedication to the welfare and comfort of their animals.
Lellavan Farms just installed a $2.2-million dairy barn designed around the principal criteria of animal welfare, comfort and safety. Jeannie knows every single animal. As we walked around and interacted with them, it was clear they knew her. They showed affection.
In the language of reports, the Agropur report states that the dairy industry "contributes to the regional fabric and territory occupations."
I'll put it this way: You cannot separate farming from the fabric of rural Canada. The families, animals and land are fully integrated into the community and landscape. The survival of rural Atlantic Canada, in particular, is dependent on this, and it is something we must keep in mind during all of our trade negotiations.
Agriculture is our future; it's that simple.

David Gray, Dean of the Faculty of Agriculture, Dalhousie University
This article is republished from The Conversation under a Creative Commons license. Read the original article.